Smart Commerce Online Summit: Customer Centricity in the age of Disruption
Date: November 17, 2020
Time: 8:00AM - 10:30AM CST / 3:00PM - 5:30PM CET
Location: Virtual
Everyone in Manufacturing knows that traditionally the buying experience for highly customizable products is high-touch, very complicated, and often disjointed. Partner that with recent economic uncertainty, social distancing practices, and unease about travel– there's a new sense of urgency to digitalize quickly!
The top industrial manufacturers in the world are focused on implementing disruptive technologies to meet the demands of customers that are conducting business across channels.
Embrace the Customer Revolution
(8:45AM - 9:15AM CST / 3:45PM - 4:15PM CET)
B2B Customers demand the same sleek, always-on experience they've enjoyed as consumers – without cumbersome processes or inefficient handoffs. Reimagine e-commerce and unify all your customer services company-wide – from presales, to sales, to after-sales – to boost your business. Nick Thompson (Tacton) and Mauro Boffardi (Intershop) will discuss the creation of digital strategies around your customers and showcase a digital customer portal with must-have information and readily accessible self-service-tools.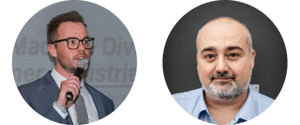 Join the "Smart Commerce Summit: Customer-centricity in the age of Disruption" to learn about the importance of a buyer-focused experience and how Atlas Copco and nVent focused their digital transformation on customer-centricity.
Agenda
Kickoff keynote - Bo Gyldenvang, CEO, Tacton
8:00AM - 8:15AM CST / 3:00PM - 3:15PM CET


Understand the Need and Deliver with Speed: Lennart Remnebäck, Atlas Copco
8:15AM - 8:45AM CST / 3:15PM - 3:45PM CET


Embrace the Customer Revolution: Mauro Boffardi, Intershop & Nick Thompson, Tacton
8:45AM - 9:15AM CST / 3:45PM - 4:15PM CET


Developing a Customer-centric Digital Strategy: Alexander van der Weide, nVent Hoffman
9:25AM - 9:55AM CST / 4:25PM - 4:55PM CET


Mapping the Customer Journey at Pelco: Fahad Mahboob, Pelco
9:55AM - 10:15AM CST / 4:55PM - 5:15PM CET


Closing remarks: Nick Thompson, Tacton
10:25Am - 10:30AM CST / 5:25PM - 5:30PM CET